MyApp - Protect and manage your connected vehicle
MONITOR YOUR VEHICLE WITH GPS LOCALIZATION AND ANTITHEFT CAR ALARM TO IMPROVE YOUR
DRIVING EXPERIENCE
MyApp provides a range of tools and services to improve security for your vehicle via location mapping and health monitoring.
Activate your car alarm and monitor your position 24/7 with GPS localization thanks to Air's MyApp.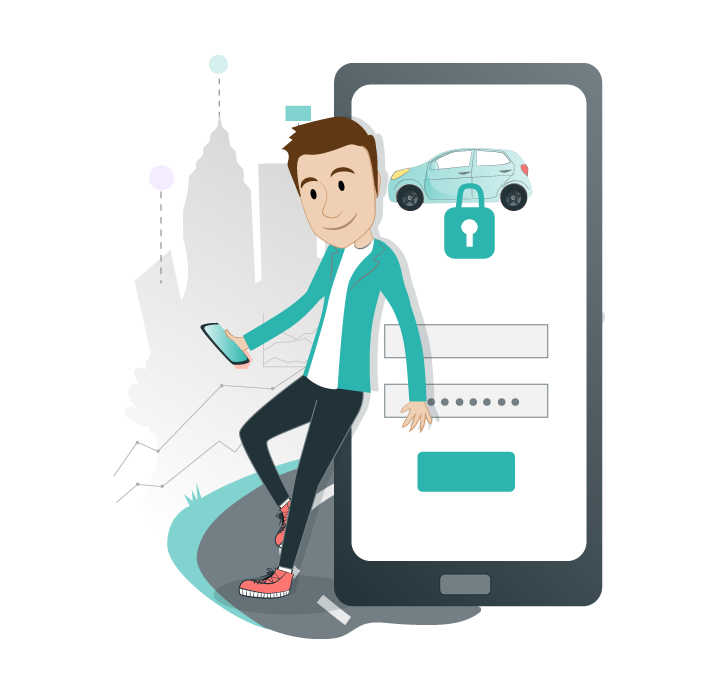 In the Map section you can:
View the last known position of your vehicle;
Share the vehicle position via a link;
Activate the anti-theft system to be notified in the event of unauthorized movement of the
vehicle.
From the homepage or from the maps page, you can:
Activate and deactivate the satellite anti-theft system;
Receive notifications in case of potential theft;
Track vehicle location on the map and share it with the authorities for support.
For each single trip you can check:
Mapped itineraries;
Departure and arrival addresses with date and time;
Distance and duration of the trip;
Driving behaviour.
Monitor your driving behaviour month by month and check:
Number of extreme events – sudden accelerations, braking, tight curves;
Environmental impact – CO2 emitted by the vehicle;
Driving time -% of day / night driving;
Road context -% of urban / suburban driving.
Keep an eye on:
Kilometres travelled, fuel levels, battery level, oil level;
Maintenance provided by the car manufacturer;
Alarms and Error Codes (DTCs);
Save the contact details for your trusted workshop and make appointments directly.
Choose the plan that suits you best (monthly or annual subscription) and select the payment method
you prefer. What are you waiting for? Access the App to discover all the promotions available to you!
Manage your vehicle with MyApp!
Air improves every driver's life with a connected driving experience.
Stay connected to your car with Air. Visualize your car's location at any time, track your journeys and
keep everything under control.
Monitor all your vehicles from a single account or select what you want to focus on.
Keep all your driving documents at hand in the dedicated MyApp section, archive invoices, fines, and personal documents…
Air is by your side 24/7 with the AXA Assistance Operations Centre. Receive immediate support in case of theft or crash. Contact your trusted mechanic in case of problems directly.
""Air's MyApp gives me a lot of peace of mind: I often park my car on the street in the city and before downloading the app I was worried. Now I can track its position and I know that I will be promptly alerted in case of unauthorized movement. I also feel safer during long journeys because I know that thanks to the app, I will be able to find immediate assistance wherever I am, without any problems in case the car has a tantrum!
"I am recommending this car tracking system to all my friends! I would say that today this is the best car alarm and GPS tracking solution available. I can track my vehicle in real time from the map, while most of the competitors still send text messages indicating the position ... definitely less effective! You are immediately contacted by the Operations Center as soon as an unusual movement of the vehicle occurs, if you lock your position. The Air app also reminds me when my car needs an MOT and tells me if there are any anomalies. What can I say? I am very happy with the service, and I recommend it!
If you have any questions about the functionality of the Air App, please see our Faqs